The Community Foundation for Nantucket is governed by a Board of Trustees that establishes the policies & procedures and oversees the general management of The Foundation and the funds entrusted to its care. Our Board consists of highly qualified community leaders from across the country who are passionate about improving the health and well-being of the nonprofits on our Island and the people they serve.
Officers
Melissa Philbrick, President
Growing up in Falmouth on Cape Cod, Melissa graduated as an American Civilization major from Brown University in 1979 and received a J.D. from Columbia University School of Law in 1984. In 1986, after practicing law in Boston for 2 years, Melissa moved to Nantucket with her husband, Nat, and their two young children. Here on Island her legal practice was primarily real estate and corporate (for-profit and non-profit) law based. She left the active practice of law in 2008 to become the founding Executive Director of ReMain Nantucket, from which position she retired in 2018 and now serves as a Strategic Advisor to ReMain. Melissa has been a member of a variety of Nantucket non-profit boards over the past 3 decades, including a prior stint on CFN's board. She currently serves on the Boards of the Nantucket Cottage Hospital and the Residences at Sherburne Commons.
Michael Cozort, Vice President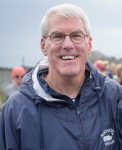 Michael has spent his life in education, most recently serving as the Superintendent of Schools for the Nantucket Public Schools. He served in that capacity for ten years, retiring in June of 2020. Prior to that, he was a teacher, coach, principal and superintendent of schools in New Hampshire.
Michael has served on several boards on Nantucket, including the Nantucket Historical Association and Harvey Foundation and presently serves on the Board of Directors for the Nantucket Education Trust, Addiction Solutions of Nantucket, and as a member of the Nantucket Parks & Recreation Commission.
Michael lives on Nantucket with his wife, Martha. They have two daughters, Abigail and Elizabeth, and enjoy visits from their four grandchildren.
Tom Anathan, Treasurer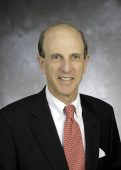 Tom is a retired Managing Director of UBS Realty Investors who served on its Investment Committee and headed all marketing, client relations, communications and reporting for over 30 years. He has been a Board Member of numerous charitable organizations including Hartford's Wadsworth Atheneum ( oldest public art museum in the United States), The Mark Twain House, and the Nantucket Historical Association ( Treasurer and Member of its Executive Committee ).  Both Tom's family and his wife's family have been summer and/ or year round residents of Nantucket for over 60 years and have actively supported many other Nantucket charitable organizations during that time.
Lisa Botticelli, Secretary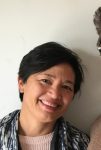 Lisa was born in Louisiana and raised in Honolulu, Hawaii.  In 1980 Lisa left Hawaii to attend college at the Rhode Island School of Design where she met her husband Ray.  After receiving a BA in Architecture in 1985, Ray and Lisa moved to Boston where she worked for an architecture firm specializing in commercial interiors and residential architecture.  In 1991 Ray was asked to move to Nantucket to manage the Nantucket office of Design Associates for whom he had been working for in Cambridge.  Looking for a new adventure they moved to the island in June of 1991 ostensibly for one year.  They both fell in love with living on Nantucket with their small family and continued to work at Design Associates until the spring of 1994 when they started Botticelli and Pohl.  28 years later they are still here here.
Lisa has two daughters, Camille and Phoebe, and two adorable pugs named Timothy and Wesley.  She has served on the Zoning Board of Appeals for the past 10 years and enjoys biking around the island in her spare time.
Trustees
Frank Anton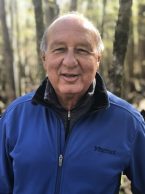 Frank Anton is the former CEO of Hanley Wood, a business to business media company that served professionals in the home building and architectural businesses. Now retired, he has long been an active supporter of Habitat for Humanity. A graduate of Dartmouth College and Northwestern's Medill School of Journalism, Frank is now a fellow of Harvard University's Joint Center for Housing Studies.
Maureen Fennessy Bousa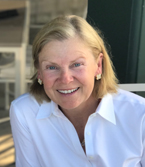 Maureen Fennessy Bousa has enjoyed a summer cottage on Nantucket since 2003.  She currently serves as a trustee of The Clark Art Institute (Williamstown, MA) and the Nantucket Book Festival (Nantucket, MA).  She supports the Library of Congress as a member of the James Madison Council.  Maureen's previous board experience includes Historic New England (Boston, MA), the Nantucket Historical Association, and the White Heron Theatre Company (Nantucket).  In addition, she is a former overseer of the Massachusetts Horticultural Society – from which she earned a Master Gardener designation.  Maureen holds degrees from Wellesley College (BA) and Boston College (MBA)..
Marc Feigen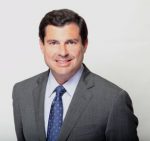 Mr. Marc A. Feigen, called by Fortune Magazine the leading CEO advisor in the United States, has counseled the CEOs of over 35 companies including Ford and Disney. Marc advises on strategic value creation, governance, investor relations, and leadership. He has written extensively on corporate governance, CEO succession, and leadership. His firm produces the annual the Feigen Advisors New CEO Report, a widely used Boardroom resource. He also founded Hercules Solutions LLC, a software firm that he sold to the New York Stock Exchange. Marc earned a BA with honors in history from the University of Pennsylvania (1983), matriculated at St. John's College, Cambridge (1983-1985), where he was a Thouron Fellow, and earned an MPhil in history. He has an MBA from Harvard (1989). Marc is a co-founder of Cambridge in America and is an Honorary Fellow of St. John's College. He teaches a course on the role of the CEO at the Cambridge Judge Business School.  
Jamie Foster
Jamie Foster is the Executive Director of the Nantucket Boys & Girls Club.  He has been with the Club for 16 years and has been involved with the design of the current facility, developing an employee housing plan, enhancing program curriculum, and creating collaborative relationships with a number of other island organizations.
He has a BS from University of Mary Washington and an MS from Western Kentucky University.
He serves on a number of island boards and was awarded the Nantucket Advocate for Children Award in 2011 by the Nantucket Community School.  Jamie and his wife, Courtney, a guidance counselor at Nantucket High School, live with their two sons on Nantucket.
Pammy Brooks Griffin
Pammy Brooks Griffin has been on the island for over 50 years as a summer resident and is now a year round resident. She had a successful 30 year career in the media business in New York in both Marketing and Human Resources roles. In senior HR leadership roles, she provided strategic direction to senior management in a number of key areas including organizational structure, integration of acquisition companies, executive professional development, performance management and training and development. Pammy was also a partner with a large global search firm, based in the New York office and also a Principal with a boutique firm. During her time in executive search,, she managed recruitment of publishers, editors and senior executive teams for major publishing companies and has also placed full management teams and key senior executives in multiple Internet start-ups.
Pammy graduated from Bowdoin College with a BA in History. She has been a long time volunteer for Nantucket organizations such as Nantucket Community Sailing and Swim Across America. In addition to the Nantucket Community Foundation, Pammy is also on the Board of The Egan Maritime Institute. Her past Board experience includes the Carver Center, the largest and longest-running community center in the village of Port Chester, NY, with educational and recreational programs for families and individuals of all ages. She has also been a past Patient to Patient volunteer with Memorial Sloan Kettering Cancer Center in New York.
Pammy is Chair of The CFN Development Committee and is also on The Grants Committee.
Kevin Marshall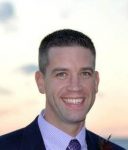 Kevin Marshall has been employed with the Nantucket Police Department for the past nineteen years and was promoted to Patrol Sargent in 2008. Along with his regular duties as Patrol Sergeant, at the direction of the Chief, Kevin is assigned to oversee and direct myriad programs such as the: Crime Prevention Unit, Community Service Section, School Resource Officer Program, Elder Affairs, Bicycle Safety, Honor Guard and is the Coordinator for the Volunteer in Police Service Program (V.I.P.S.). In the last few years Kevin has received certifications in several trainings allowing him to educate first responders how better to respond to behavioral health calls for service. His trainings include: Crisis Intervention Team training, Signs of Suicide, Connect the Trainer, Law Enforcement Question- Persuade- Refer and Mental Health First Aid. To date he has educated over three hundred and sixty community members on becoming suicide prevention gatekeepers. When Kevin is not on patrol he serves on several committees including: Cape and Islands Behavioral Health Provider Coalition, Nantucket Behavioral Health Task Force, Cape and Islands Suicide Prevention Coalition, Bicycle and Pedestrian Advisory Committee. Kevin and his partner John reside on Nantucket Island.
Martha Polachi
Martha Johnson Polachi first experienced Nantucket in 1977 with her husband, Charley, and summered here for decades until moving to Sconset full time in 2012. After graduation from College of the Holy Cross, Martha worked in Human Resources for Raytheon Data Systems and Prime Computer. An active alumna of Holy Cross, Martha served on several committees and task forces over the years and most recently was co-chair of the President's Council for three years. A member of the Board of the Sconset Civic Association for 12 years, she served as President from 2015-2020, and presided over many projects in the village including the renovation of the Sconset Rotary. For several years, Martha served on the Board of Directors of the Nantucket Lightship Basket museum and the Advisory board of the Nantucket Community Music Center. She is actively involved with Nantucket Racquet Sports Association, helps at the Nantucket Food Pantry, and sings in the NCMC Women's Chorus and the choir at St Mary's of the Isle and Sconset Chapel. Before moving to Nantucket, Martha volunteered for many organizations in Sherborn MA including the historic 1800 House, Sherborn Public Library, Sherborn Girl Scouts, and served as President of the Bogastow Garden Club, ECDC Nursery School, and Sherborn Newcomers Club.
Magdalena Reid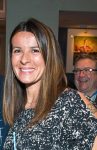 Magdalena Reid has been living on Nantucket for almost 20 years coming from Burlington, MA.  She has worked for two local banks on Island for close to 15 years in various positions including management.  Currently working for Hanley Development managing day to day operations including financials, investor relations and anything and everything in between.  Magdalena has been on the board for Community Foundation for several years and has really enjoyed being part of the Grants Committee and Scholarship Committee as it allowed her to really get to know our community.  Magdalena is also a member of the Patient and Family Advisory Council at Nantucket Cottage Hospital.  She enjoys staying active, cooking, traveling when time allows and spending time with her family including her two favorite 4 legged critters, Minnie and Louie.
Chris Vineis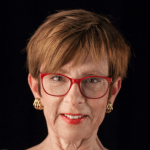 Christine Vineis (Chris) has spent her career in public affairs in Washington, DC, New York City and Columbus, Ohio. Chris began her career in the US Congress working for the ranking member on the House Commerce Committee and then served as Government Affairs Assistant Vice President for IC Industries representing the now CN Railroad. She and her husband moved to New York where she managed the pharmaceutical industry's first consumer advertising campaign for Pfizer, Inc. As a sales associate for a corporate jet manufacturer, she got her pilot's license in New York. Chris launched her public affairs consulting firm, Capital Partnerships LLC, in 1997, specializing in federal government relations, innovative project financing and grants management. The firm is an affiliate of The Livingston Group. A national client portfolio includes a range of large, complex and expensive projects to smaller, independent non-profit programs including some on Nantucket. In Columbus, she chaired the CHOICES Board – a domestic violence support agency, COMPASS – a program fighting homelessness, was Executive Director of the Upper Arlington Chamber of Commerce and served on the Mid-Ohio Regional Planning Commission. She is currently leading a capital campaign to build two new day cares within job training sites in Columbus. On Nantucket, Chris is a board member of the Nantucket Education Trust, development chair of the Nantucket Book Festival Committee and loves volunteering with kindergartners at the Nantucket Elementary School.
Finn Wentworth
Finn Wentworth is an entrepreneur, and philanthropist whose businesses have included commercial real estate, media and sports ventures. A past President and Chief Operating Officer of YankeeNets, LLC, he is a co-founder of the YES Network. He also served on the Boards and the National Basketball Association as well as the team Boards of the New York Yankees, the New Jersey Nets and the New Jersey Devils.
Wentworth is a founder and partner of Senlac Ridge Partners, a private equity firm targeting investment opportunities in real estate and non real estate assets and businesses. His long-term commitment to strengthening his industry and New Jersey's business community earned him the NAIOP Lifetime Achievement Award and induction into the NJBIZ Hall of Fame.
Wentworth is a founder of the New Jersey Pandemic Relief Fund created to reduce the impact of the Coronavirus on the most vulnerable New Jerseyans. He has served as chairman of the Foundation for Morristown Medical Center and is currently on the Board of Trustees of Atlantic Health System. He is treasurer of the Board of Trustees of the Geraldine Rockefeller Dodge Foundation. He is a board member of the New Jersey Hall of Fame and the Nantucket Community Foundation as well as a trustee of the Nantucket Historical Association.
A graduate of Lehigh University with a degree in Marketing, he is a past trustee of the university, which honored him with the Lehigh Alumni Award.
Max Wolf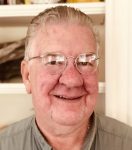 Max  Wolf is the priest at St. Paul's Episcopal Church on Fair Street, he and his wife Olly moving to Nantucket in June 2018. A graduate of the University of Rhode Island and Episcopal Divinity School, Max served in Delaware as President of the Board of Directors of The Way Home prison ministry for sixteen years (working to prevent recidivism), on the Board of Immanuel Shelter for the homeless, and was appointed by Governor Markell to the Delaware Council for Faith-based Partnerships. On island Max serves on Nantucket Cottage Hospital's PFAC, and was recently elected President of the Nantucket Interfaith Council.
Joe Wright
Joe Wright has a long history of working as an investment banker in Canada and internationally. He joined Citibank in 1964 and worked in NYC, Geneva and in Toronto from 1975 to 1986. Eight years as an investment banker in Toronto and 2 years as CEO of Swiss Bank Canada. 15 years as a corporate director of 16 public and private Canadian companies in Toronto and Montreal. Married to Betsy Breslin since 1968 with two children one of whom, Amanda Wright is Clinical Director of Fairwinds here in ACK and a married actor son & one grandchild in Brooklyn.
Joe has served on the board of the The Clark Institute (Toronto psychiatric hospital) and then The Center For Addiction & Mental Health known as CAMH, The Donwoods (Addiction Rehab Facility),  The Addiction Research Foundation (addiction treatment facility) and The Queen Street Hospital (inpatient mental health hospital). Joe is proud of his work on these boards and is excited to bring his background in finance and mental health to his role on the Board of the Community Foundation for Nantucket.