2017 Nantucket Fund™ Grant Recipients
On July 11th, at the Nantucket Hotel, we held our annual Nantucket Fund™Grant Recipient Breakfast. The event was sponsored by BNY Mellon Wealth Management. This year, we had the pleasure of awarding $160,475 to 22 nonprofit recipients.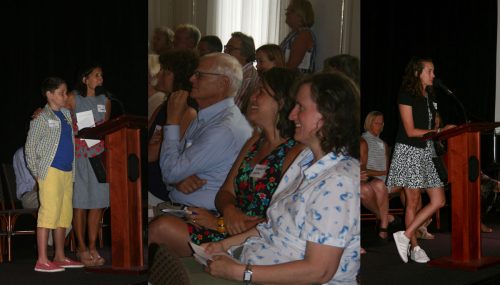 Annually CFN convenes members of the Nantucket community to identify and discuss the most pressing current needs, a practice that allows our Grants Committee to be strategic in grant making around priorities set by our community.
Here is where our grant dollars were directed this year.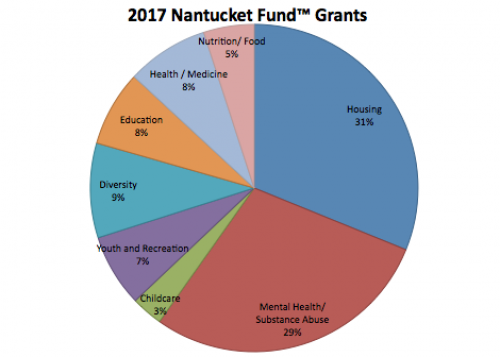 Housing: 
Capacity Building & HVAC Systems for new homes, Habitat for Humanity
Public Education & Media Outreach Programs, Housing Nantucket
The Community Investment Tax Credit Program, Housing Nantucket
Short-Term Rental Assistance for the Nantucket Rental Assistance Program, Nantucket Food, Fuel, & Rental Assistance
Mental Health/ Substance Abuse: 
Victims of Crime Act grant support for a full-time Trauma Therapist, A Safe Place, Inc.
Janina Kean, Family Awareness Program, Alliance for Substance Abuse Prevention
Fairwinds Professional Development Institute, Fairwinds – Nantucket's Counseling Center
Healing through the Creative Process, Artists Association of Nantucket
Guiding Good Choices – Drug Prevention Training for Families, Gosnold Inc.
Diversity Initiatives: 
Ready Set Read Program & Parental Empowerment Series, Nantucket Community School
Brazilian and Bulgarian Dance Programs, Nantucket Music Center
Translation Services for Nature Trails, Linda Loring Nature Foundation
Youth & Recreation: 
Children's Theatre Program, Nantucket Dreamland Foundation
Sensory Art & Cross Fit Programs, Nantucket STAR
Boys & Girls Club Sailing & Water-Sport Classes, Nantucket Community Sailing
Education & Child Care: 
PEN/Faulkner Writers in Schools, Nantucket Book Foundation
Sea of Opportunities with Nantucket Public Schools, Egan Maritime Institute
Mike Smith Live – Motivational Speaker Series, Friends of Nantucket Public Schools
Humane Education Program, Nantucket Island Safe Harbor for Animals
Extended Hours in Infant Room, Small Friends on Nantucket
Health & Medicine: 
Immigrant & community engagement initiatives, Increased health, nutrition, and family services, and bilingual reproductive health counselor, Health Imperatives, Inc
Be Well Children's Health, Nantucket Cottage Hospital
Food & Nutrition: 
Fresh Food Produce Program at Nantucket Food Panty, Nantucket Food, Fuel, & Rental Assistance