Last month, The Community Foundation for Nantucket  celebrated its 10th Anniversary at the beautiful home of Karl & Sue Ottison. 
The celebration brought back many memories  and a little history of the last ten years.
The Community Foundation for Nantucket originated out of concern both for the scope of the Island's social services and recognition of the need to support the stability of those social service nonprofits in a variety of ways. The Foundation grew from community members who shared a passion for philanthropy and the community, and who wanted to transfer all of that to Nantucket. The organization wanted to discover the needs of year-round community members, and address those needs. Lynn Petrasch, early CFN Advisor, stated "There was excitement about the prospect of seasonal residents working hand in hand with Islanders to understand real Island issues, very different from larger nonprofits which provided 'events' for seasonal residents."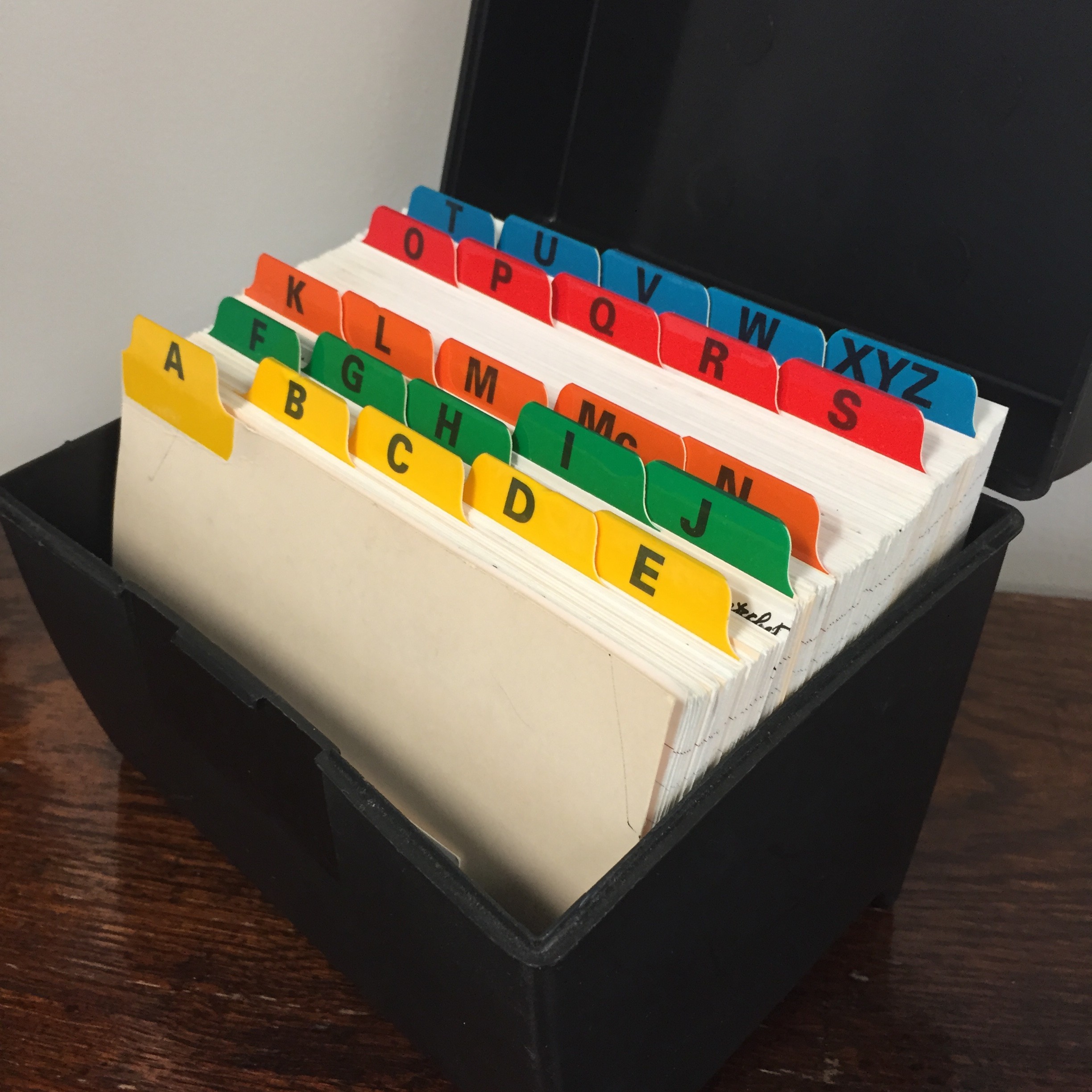 The Community Foundation for Nantucket's first "database" was created by founding member Eileen McGrath.  It was this black box of names that she kept in organized fashion.
The Foundation began in late 2004 with informal meetings of a small group consisting of Dr. Les Ottinger, Clarissa Porter, Eileen McGrath and John Miller. They met with George McCulley, a Boston resource through the Chronicle for Philanthropy.
In 2005, the group's efforts increased and the circle expanded to include Peggy Gifford (who later became the first Board President), Rev. Nancy Nelson, Bob Felch and early Advisor Dick Oman, who offered his 53 years of expertise as a tax, probate and foundation attorney, and also his experience as Director of the Columbus Foundation.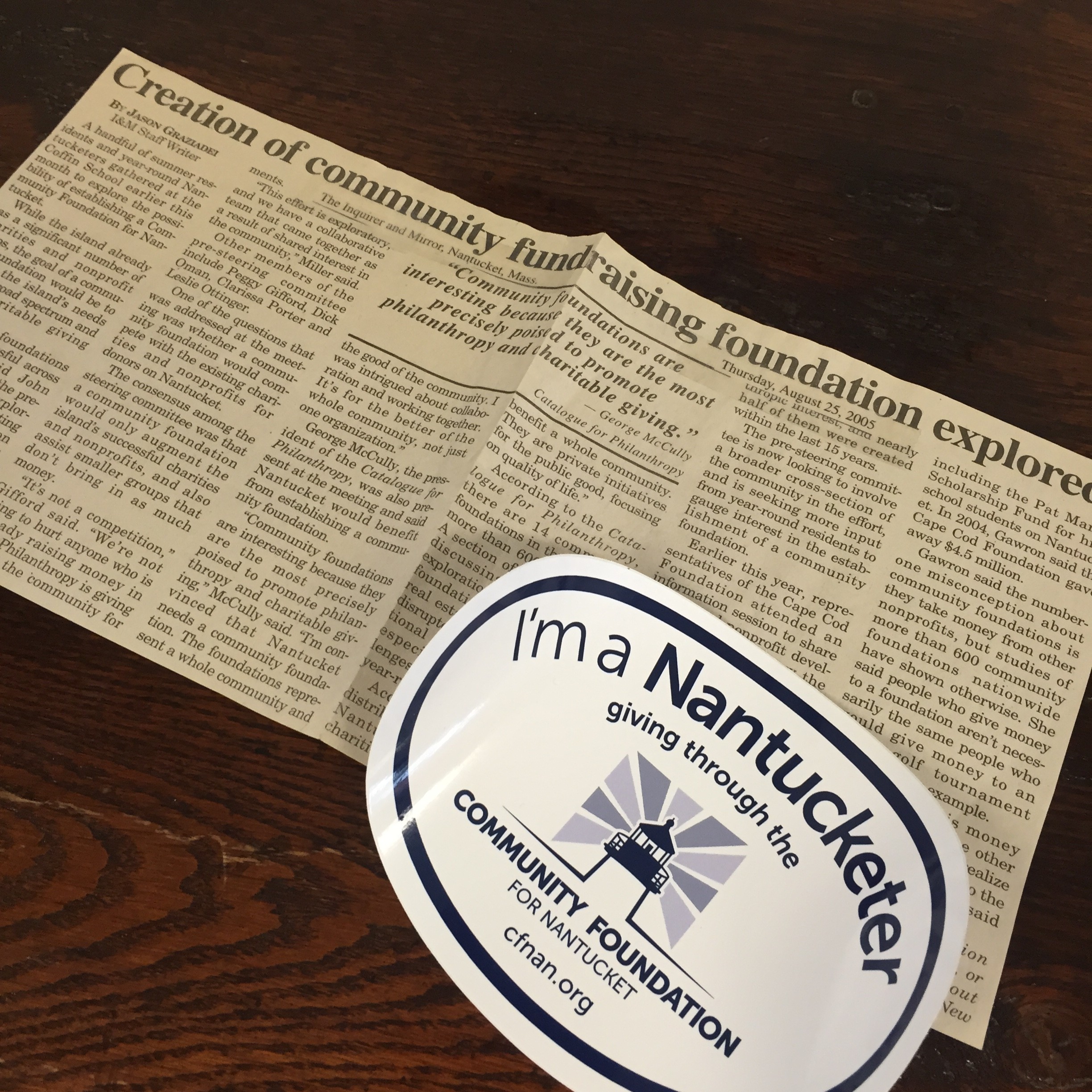 The first article featuring CFN was written by Jason Graziadei on August 25, 2005. This article highlighted this group of Nantucketers who felt the need to start our Island's Foundation.  It was this dedication 10 years ago that paved the way for our new and returning members to continue the legacy.
We are proud to announce  Robert D. Felch, Robert Tichio and Cathy Ward as new trustees.  Return­ing trustees include Bill Frist, Ellen Hoeffel, Rev. Gary Klingsporn, Zeldy Lyman, Magdalena Padzik, and Geoff Smith.  Officers elected to one­ year terms were Victoria McManus as President, Tucker Holland as Treasurer, Marsha Egan as Secretary, and Joe Hale, Marsha Kotalac, Susan Ottison, Melissa Philbrick and Geoff Verney as Vice Presidents.
We recognize two retiring trustees, Phil Stambaugh and Tom Maggs.  Thank you for your dedication to the Foundation. Phil served as President of the organization for the past 6 years, and will remain on the Advisory Committee.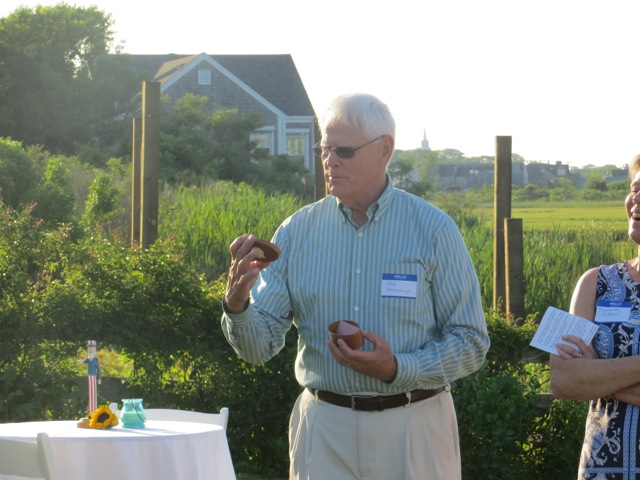 "The Foundation continues to have incredibly strong volunteer leadership, and as much as we will miss having Phil at the helm, we are very excited to welcome Victoria to her new position," said the Foundation's Executive Director, Margaretta Andrews.
"Assets and funds under management grew exponentially during our first decade, and we are confident that the Foundation is positioned to become an even more significant resource to Nantucket over the next ten years."
Thank you to everyone who helped make The Community Foundation for Nantucket what it is today!