We're thrilled to have supported the Walden Chamber Players with a Community Grant to help produce a series of programs in collaboration with the Nantucket Dreamland, Nantucket Public Schools, A Safe Place, and the Nantucket Lighthouse School.  There's a lot of excitement building for the second residency week of the 2013-2014 Chamber Music ACK program and we hope you will join us!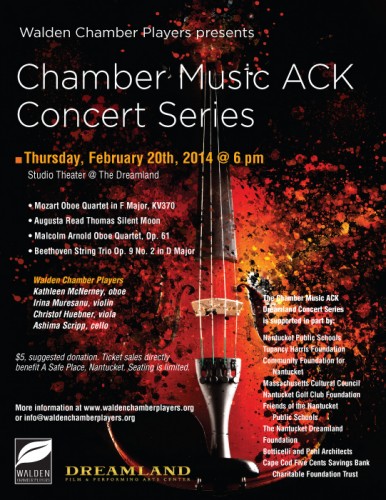 We'd like to invite you to the second community concert of the Walden Chamber Players at the Dreamland Studio Theater on Thursday, February  20th @ 6pm. The performance will include works for strings and oboe by Beethoven, Mozart, Arnold and Augusta Read Thomas. The performance will benefit our friends at A Safe Place, Nantucket. We'd love to see you there!
The resident musicians of the Walden Chamber Players will make presentations to all students at Nantucket Elementary and Nantucket Lighthouse School and will also meet with the Music Technology class at Nantucket High School.  In addition, they will offer an Instrument Petting Zoo at an evening Potluck dinner hosted by Nantucket Public Schools to give the students a time to touch a variety of instruments and ask questions of the resident musicians.  Throughout the week, students will be rehearsing and playing with the Walden Chamber Players in preparation for the Performance on Thursday evening at the Dreamland to benefit A Safe Place.
The Foundation is excited to support a collaboration of nonprofits in creating a series of activities that is inclusive of the community and engages Nantucketers of all ages to participate and enjoy this high quality program.