In December of 2014, the Community Foundation for Nantucket awarded grants through the  Nantucket Fund™ to 27 deserving Nantucket nonprofits.  Now in 2015, we are excited to feature and highlight these nonprofits and their amazing efforts.  We asked each recipient a series of questions that get to the heart of their organization and how it benefits our Island community. Our third nonprofit makes waves to fight cancer! It's Swim Across America-Nantucket – and we helped!

1)    How does your nonprofit help the Nantucket community?
All of the net proceeds of our Swim, go towards cancer treatment and patient care on Nantucket.  With our funding, we help bring Mass General Hospital oncologists to Nantucket as well as help to provide other cancer treatment services, eliminating their need to travel off-island for state-of-the art care.  Our goal is to fully fund this program.   
We also help fund the cancer support survivorship program which helps people regain and maintain well-being throughout the entire cancer experience from diagnosis through treatment and after treatment has ended.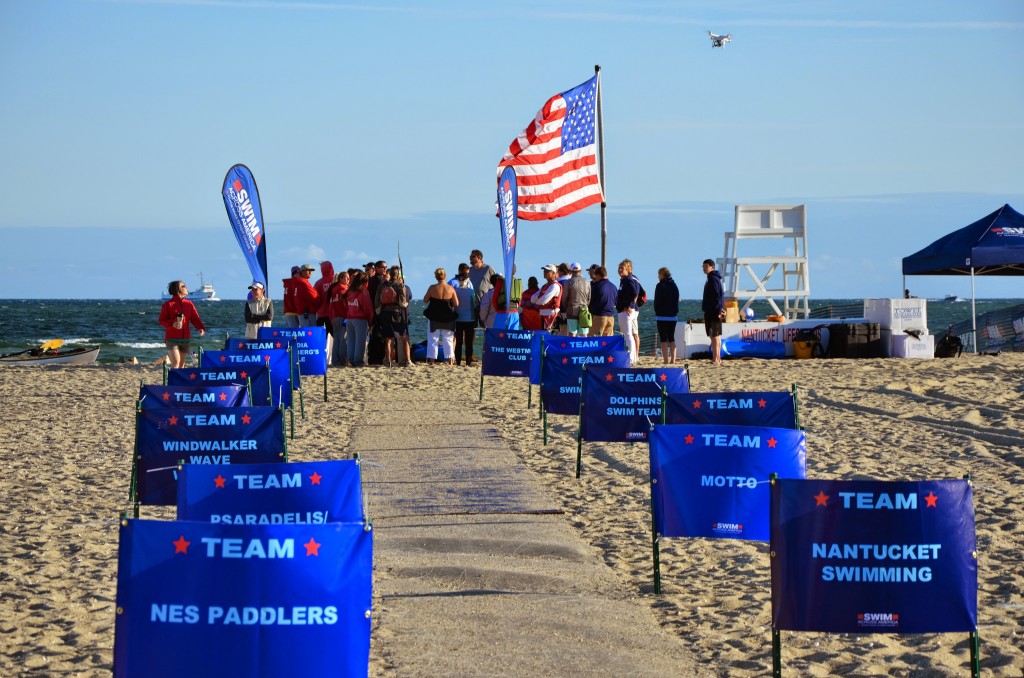 2)        What does our Nantucket community mean to you and your nonprofit?
Our swim is a community event made up of children as young as five and adult swimmers as old as 80.  We all come together in August as a community to help one another.  Our participants and volunteers consist of islanders and off-islanders who swim, support those receiving treatment, and celebrate the special bond we have as Nantucketers.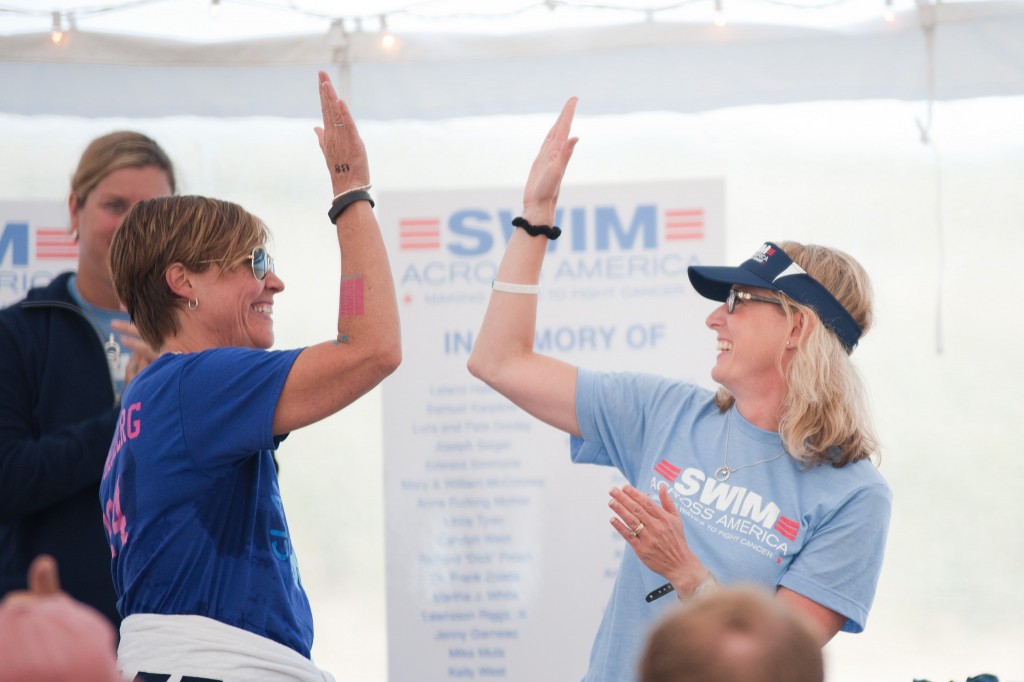 Living on an island enhances our sense of community, family and deep connection.  When someone we know is in need or has an illness, we come together to help them fight, and we know the impact of our efforts.   Our swim also brings cancer survivors together (as swimmers, volunteers or spectators), reminding them that they are not alone in their fight.
3)        Tell us a specific story of how your nonprofit has benefited someone in our Nantucket community (something we might use in a testimonial).
From Cris Farley (SAA-Nantucket Swimmer)
"My wife Sara was diagnosed with Stage four esophageal cancer seven weeks after the 2013 Nantucket Swim…what happened to Sara can happen to our family again – it can happen to any of us…I learned that we cannot fight this devastating disease alone, especially while living on an island."
 4)        In one sentence, tell us your thoughts on the Community Foundation for Nantucket and how you think it benefits the Nantucket community and all your efforts as a nonprofit.
The Community Foundation for Nantucket helps all Nantucketers – those in need and those like us that want to help other islanders; by helping us to "connect the dots" and have the most positive impact we can on our community.
5)        Where did your grant dollars specifically go this year?
Our grant dollars go to the Mass General Hematology/Oncology program at Nantucket Cottage Hospital bringing a world-renowned team of cancer specialists to Nantucket.
Our grant dollars also go to Palliative & Supportive Care of Nantucket (PASCON) to support their cancer support survivorship program.
 6)        Any event dates for your nonprofit we should know about in 2015?
May 15th is SWIM ACROSS AMERICA – NANTUCKET DAY.  Be sure to wear your SAA gear that day.  Join Us May 15 at NIXS Brew Pub between 5:00PM to 7:00PM to help us celebrate Swim Across America – Nantucket Day.   We will have computers and volunteers set up to help anyone who has not registered yet for our event on August 22.  As a token of our appreciation, we will buy everyone who registers or who has registered for our 2015 Swim, a drink.  We will also have some fun giveaways to spread the SAA love.  Follow @saanantucket on Instagram, Twitter and/or Facebook.  On any of our posts, tag the family member(s) and/or friends who you'd like to swim with at our August 22 event at Jetties Beach.  The swimmer who is able to encourage the highest number of swimmers or volunteers will win SAA Nantucket swag and will be announced at our Swim Across America Day event at NIXS Brew Pub on Friday, May 15.
The registration fee will increase on May 16 to $50.00.  Hope you will join us – and bring a friend.
Saturday, August 22, 2015 at 8AM at Jetties Beach.
Follow Swim Across America – Nantucket on social media
Twitter:  @saanantucket, Instagram:  @saanantucket , Facebook: /SwimAcrossAmericaNantucket
Email Sign-Up – www.swimacrossamerica.org/Nantucket
Watch The Swim Across America – Nantucket Video