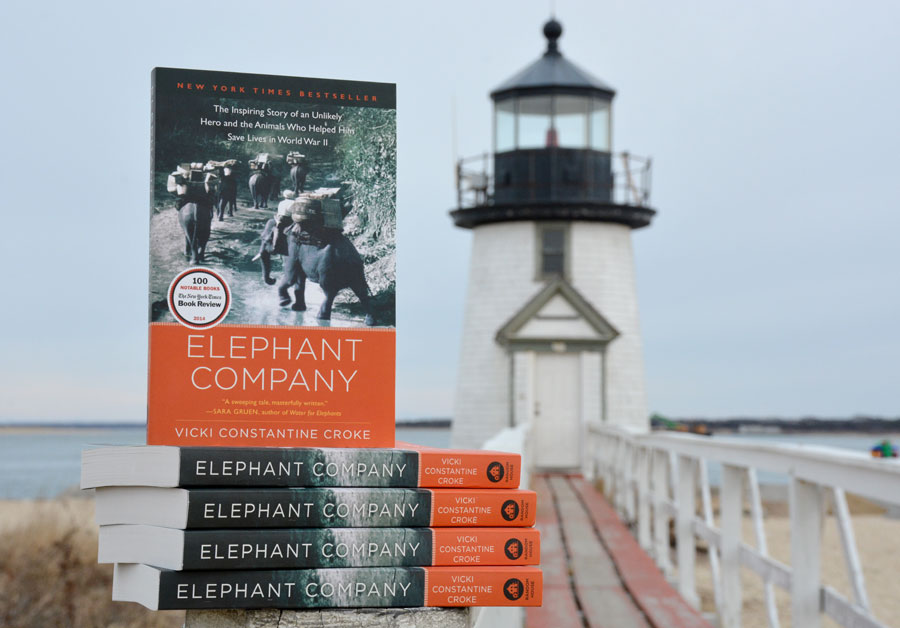 One Book One Island is a collaborative project of community partners and sponsors on Nantucket which seeks to promote reading, literacy and community by encouraging the entire population of Nantucket to read, discuss, and reflect on the same book. In addition, the project is designed to foster the importance of life-long learning for children and adults and to provide multiple opportunities for cultural enrichment in the community. The Community Foundation for Nantucket is proud to be a part of this annual community event. 
The 2017 book selection is Elephant Company by, Vicki Constantine Croke.
Elephant Company tells the remarkable story of Lt. Col. James Howard Williams, also known as Elephant Bill, a British veteran of both world wars, who became famous during the Japanese occupation of Myanmar, known then as Burma, when his company of elephants helped refugees traverse perilous jungle terrain and bring much needed supplies.  Williams' relationship with elephants began in the 1920s when he joined the Bombay Burmah Trading Corporation as a forest manager and elephant wallah. An avid animal lover from a young age, Williams' was struck by the elephant's strength and intelligence. After a serendipitous encounter with an elephant raised by a gentler handler, Williams developed a more humane approach that stressed a symbiotic relationship.
There will be a week of free related events from March 10th until March 19th.
MONDAY MARCH 13 – SATURDAY, MARCH 18  
Drop-in Origami Elephant Project
African Meeting House (29 York St.)
Nantucket Artists' Association Visual Arts Center (24 Amelia Dr.)
Nantucket Atheneum (1 India St.)
Nantucket Community School (56 Center St.)
Salt Marsh Senior Center (83 Washington St. Ext.)
Come visit one of these OBOI sponsors and make a set of Origami elephants – one to keep and one to add to the elephant display.
FRIDAY, MARCH 10
Artists Association Exhibit Opening    5 to 7 pm
"Spirit of the East: Cultures Seen Through Spirituality and Wildlife"
(On display March 8 – 16)
SATURDAY, MARCH 11
Artists Association Talk     10 – 11 am
"Eastern Influences"
Artists Association Origami Demonstration     11  am – 12 pm
Instructor: Shelley Dresser
Johnson Gallery
19 Washington St.
MONDAY, MARCH 13
Author Presentation: Vicki Constantine Croke, Elephant Company  5 pm
The author of this year's OBOI selection discusses her work.
Nantucket Atheneum Great Hall
1 India Street
TUESDAY, MARCH 14
Film: Title To Be Announced  5:30 pm
Dreamland Theater
17 South Water St.
WEDNESDAY, MARCH 15
Elephant Presentation: Dr. Joshua Plotnik    5:30 pm
President of Think Elephants International
White Heron Theatre
5 North Water St.
THURSDAY, MARCH 16
Book Discussion With Molly Anderson   10 am
Sherburne Commons Living Room, 21 South Shore Rd.
Book Discussion With Molly Anderson   5:30 pm
Nantucket Atheneum Great Hall, 1 India St.
SATURDAY, MARCH 18
Elephant Cookie Baking & Decorating   10 – 11:30 am
for children 5 to 10 and their parents.
Culinary Center, 22 Federal St.
Sign-Up Here. Registration Required
Children's Film: "Horton Hears A Who"   2 – 3:30 pm
Nantucket Atheneum Great Hall, 1 India Street.
SUNDAY, MARCH 19
Finale and Closing Celebration 5 to 7 pm
Join us for the last OBOI event and feast on cuisine from different cultures, music and origami displays.
Nantucket Historical Association Whaling Museum
15 Broad St.
Click here for more information on One Book One Island.
One Book One Island 2017 is made possible by a special grant from the Tupancy-Harris Foundation and the Massachusetts Cultural Council. And, by the generous support of Annye's Whole Foods, Community Foundation For Nantucket, Dreamland Theatre, Egan Maritime Institute, Maria Mitchell Association, Mitchell's Book Corner, Museum of African American History, Nantucket Artists' Association, Nantucket Atheneum, Nantucket Bookworks, Nantucket Chamber of Commerce, Nantucket Community School, Nantucket Conservation Foundation, Nantucket Dreamland Foundation, Nantucket Historical Association, Nantucket Inquirer & Mirror, Nantucket Lightship Basket Museum, Nantucket Preservation Trust, and White Heron Theatre Group.