A gift of $10,000 ($20,000 for Scholarship Funds) or more can establish a component fund at the Community Foundation for Nantucket.  These funds support the nonprofit organizations and charitable causes that mean the most to you through grants and scholarship distributions.
Donor Advised Funds
There are several reasons why a you may want to consider opening a donor-advised fund with the Community Foundation for Nantucket:
Simplified giving: Donor-advised funds offer a simplified giving process, where you can make a single contribution to the fund and then recommend grants to your favorite charities over time. This can save time and effort compared to making individual donations to multiple organizations.
Tax benefits: By contributing to a donor-advised fund, you can receive an immediate tax deduction for your contribution, even if you don't recommend grants to charities until a later date.
Flexibility: Donor-advised funds offer flexibility in terms of the timing and amount of grants made to charities. You can make recommendations for grants whenever you choose and in the amount you choose, as long as the grants are made to qualified charities.
Local impact: By opening a donor-advised fund with the Community Foundation for Nantucket, you can support local nonprofits and organizations that are making a positive impact in our community.
Expertise: The Community Foundation for Nantucket has expertise in managing and administering donor-advised funds, so you can be confident that your contributions are being managed effectively and efficiently. In addition, we know our nonprofit community and are a charitable resource for you; we can advise you on how to best meet your Nantucket philanthropic goals.
Overall, opening a donor-advised fund with the Community Foundation for Nantucket can provide you with an easy and effective way to support local charities and maximize your philanthropic impact.
CFN Donor Advised Fund Agreement (PDF)
CFN Grant Guidelines and Fund Activity Policy(PDF)
Learn more about Donor Advised Funds with the Community Foundation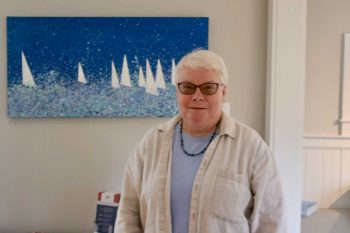 "When I took a year off from full-time work and was without a regular income stream.  My Donor Advised Fund meant I didn't have to stop or slow down my charitable giving and my philanthropic footprint was still visible on the streets of Nantucket!  I could still support the community I call home." Janet Schulte
Janet donated stock, which had appreciated significantly, to the Community Foundation to create a Donor Advised Fund.  She avoided any capital gains on the appreciated value, which left the entire asset available for charitable gifts.
Designated Funds
Do you have a favorite nonprofit organization? You can support one specific nonprofit of your choice forever.
CFN Designated Agreement (PDF)
Field of Interest Funds
Choose an issue that's important to you – for example, the arts, education, conservation or health. Distributions from your fund support grants to local nonprofits working in the field you select. You choose an area you are passionate about, and the Foundation selects the best programs and projects to support.
Field of Interest Agreement (PDF)
CFN Donor Initiated Fundraising Policy (PDF)
Field of Interest Project and Partner Funds
Project Funds can be used by organizations that are in the process of filing for charitable status. Groups can establish a fund with CFN to receive charitable support and process costs associated with their mission while their 501c3 application is pending.
In some cases, the Community Foundation establishes Project or Partner Funds to serve as the 501(c)(3) organization for charitable causes so individuals or groups can avoid the time and expense of creating a separate charitable entity.
Field of Interest Agreement (PDF)
CFN Donor Initiated Fundraising Policy (PDF)
Learn more about current Project Funds at the Community Foundation
"Setting up a Field of Interest project fund with the Community Foundation has enabled me to take immediate action to help address the long-term needs of our Island's natural habitats without having to go through the time consuming process of becoming our separate 501(c)3 charity." Bob Williams
Bob Williams is part of a group of concerned citizens who opened a Field of Interest Project Fund, the Nantucket Pond Collation Fund. The purpose of this fund is to work with stakeholders to restore and protect Nantucket Ponds. Since 2014 they have made significant investments in the health and safety of Hummock Pond and Long Pond.
Organization Endowments and Organization-Advised Funds
Nonprofit organizations can build resources for a project or focus on creating long-term, sustainable income. The Foundation handles all administrative and investment responsibilities, freeing the organization to pursue its charitable mission. An Organization Fund may be used for specific purposes such as a capital campaign or to build an endowment.
Organization/Agency Agreement (PDF)
Organization/Agency Endowment Agreement (PDF)
Scholarship Funds
Invest in the future of young people and life-long learners. The Foundation manages many scholarship funds, view a complete listing.
CFN Donor Initiated Fundraising Policy (PDF)