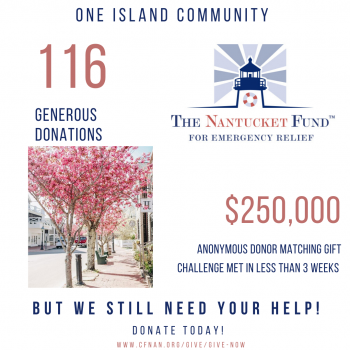 In late April, the Community Foundation's Nantucket Fund for Emergency Relief – a COVID-19 relief fund announced that an anonymous Nantucket Fund donor pledged to match new donations up to an additional $250,000.
In three short weeks, we have met this generous match of $250,000. We have now seen the magnitude of assistance required to address the ever-growing community need and are closer to our short-term goal of $2.5 million.
"As the COVID-19 Crisis continues to impact Nantucket, it has become clear just how important the Nantucket Fund for Emergency Relief is. Our grant making has become a vital resource to our human service organizations and the year-round community. The generous donations received through the matching gift challenge have allowed us to continue to support our nonprofit community and the islanders they serve."." Geoff Verney, CFN Board President.
As of today, we have awarded over $550,000 in Emergency Grants to nonprofits who are providing vital human services or organizations which needed assistance so they can remain operational during and after this pandemic. We strongly believe that in the coming weeks we will receive grant requests that will exceed the $1.7 million we currently have committed.
The donations received through matching gift challenge also support the Nantucket Fund for Emergency Relief Food Initiative. This initiative partners key human service nonprofits with local restaurants to provide weekly meals to each nonprofit's constituents.
The Food Initiative benefits both those in need and our local business workforce. Since March the initiative has provided over 4,600 meals. These meals have fed our most vulnerable populations during this challenging time – this includes feeding our Island's seniors, families living in affordable housing, individuals with behavioral health challenges, and women and children who benefit from the WIC program.
In the upcoming weeks, the Nantucket Fund for Emergency Relief will continue to address immediate and long-term needs stemming from the COVID-19 crisis. The Foundation will award grants from this fund on a rolling basis. Donations to this fund can be made via CFN's Website: https://cfnan.org/give/give-now/nantucket-fund-emergency-relief-fund/