The Community Foundation for Nantucket is pleased to announce that we have awarded over $1 Million in community relief grants to support Nantucket during the COVID-19 Pandemic.
On March 17, 2020 the Community Foundation established the Nantucket Fund for Emergency Relief. Just two weeks later, the first Emergency Relief grant was awarded. Since then the Community Foundation has been awarding grants on a rolling basis. Our dedicated staff and grants committee worked tirelessly to vet and review applications and will continue to make grants through the fall and winter.
"The Community Foundation for Nantucket, along with its Nantucket Fund and Nantucket Fund for Emergency Relief have been a godsend to our organization. We could not have survived the COVID-19 pandemic without CFN's help, as our requests for food at the pantry and for rental and fuel assistance tripled in the period from March through June. We could never have served so many islanders were it not for CFN's help, guidance, and moral support." Janis Carreiro, Executive Director of Nantucket Food, Fuel, and Rental Assistance.
Nantucket Fund for Emergency Relief – By the Numbers
The grants awarded these past 7 months have supported critical human service organizations that were actively responding to the pandemic. Grants have been awarded to help nonprofits reopen to the public, including funding disinfecting programs and PPE equipment. In addition, CFN has supported organizations that are providing relief and support to individuals and households who are experiencing severe economic hardships due to COVID-19.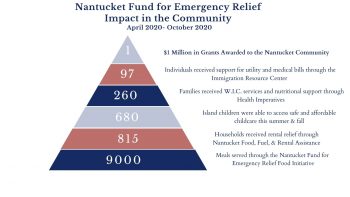 This Chapter in CFN's history book is not over yet!
The COVID-19 pandemic shocked everyone and continues to affect Nantucket daily. These past seven months presented challenges and hardships that no one could have foreseen; the CFN Team responded quickly and effectively to this community crisis. Our committee and staff are prepared to address what could be a challenging winter, hoping our local economy will be able to rebound in 2021.
"Awarding $1 million dollars to the Island community in just seven months is a major milestone for us an organization. As this crisis continues to impact Nantucket, it has become clear just how important the Nantucket Fund for Emergency Relief is. Our grant making has become a vital resource to our human service organizations and the year-round community." Geoff Verney, CFN Board President.
To learn more about the Nantucket Fund for Emergency Relief and help the Foundation continue to respond to the COVID-19 Pandemic visit: