One Book One Island is a collaborative project of community partners and sponsors on Nantucket which seeks to promote reading, literacy and community by encouraging the entire population of Nantucket to read, discuss, and reflect on the same book. In addition, the project is designed to foster the importance of life-long learning for children and adults and to provide multiple opportunities for cultural enrichment in the community.  The first selection for 2015 is Enrique's Journey by Sonia Nazario.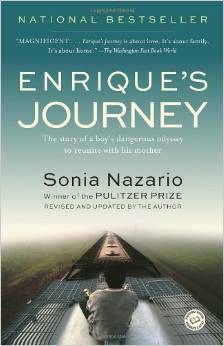 Based on the Los Angeles Times newspaper series that won two Pulitzer Prizes, this astonishing story puts a human face on the ongoing debate about immigration reform in the United States. Now a beloved classic, this page-turner about the power of family is a popular text in classrooms and a touchstone for communities across the country to engage in meaningful discussions about this essential American subject.
Enrique's Journey recounts the unforgettable quest of a Honduran boy looking for his mother, eleven years after she is forced to leave her starving family to find work in the United States. Braving unimaginable peril, often clinging to the sides and tops of freight trains, Enrique travels through hostile worlds full of thugs, bandits, and corrupt cops. But he pushes forward, relying on his wit, courage, hope, and the kindness of strangers.
As Isabel Allende writes: "This is a twenty-first-century Odyssey. If you are going to read only one nonfiction book this year, it has to be this one." Now updated with a new Epilogue and Afterword, photos of Enrique and his family, an author interview and more, this is a classic of contemporary America.
There will be seven days of related events from February 2- February 8.  For a full schedule, book discussion questions and places where you can pick up a copy of the book, visit the One Book. One Island. page at nantucketatheneum.org.