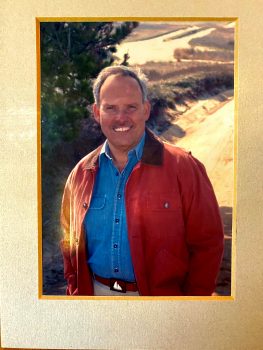 Jim Lentowski devoted  forty-seven years of his life to preserving land and open space on Nantucket, as Executive Director of the Nantucket Conservation Foundation.  He first came to the Island as a boy scout.  Jim attended the University of Massachusetts at Amherst, and received an undergraduate and master's degree in Landscape Architecture.  During graduate school, he returned to Nantucket and took part in a botany program at the UMass field station on Polpis Road.  By chance, one of his professors told him about a job opening at a newly formed conservation group on Nantucket.  Jim applied and became the NCF's first employee in 1971.
Throughout Jim's tenure, he found ways for getting people to support land conservation on Nantucket by donating land and money to the NCF.  As Executive Director and a citizen of Nantucket, he worked with many individual landowners, town boards, state legislature, and both regional and national conservation groups to preserve open space that all on Nantucket can enjoy.
He believed that the experience of being in nature and preserving the natural beauty of a place is essential to the appreciation and understanding of our planet and the ecological challenges it faces.  He was especially interested in encouraging our youth to follow such a path.
Jim's family wants his legacy to live on by aiding Nantucket based students who are interested in pursuing the study of conservation, ecology and related fields, with an annual scholarship.  We believe that Jim would approve.  His motto was "Stop and Smell the Flowers".  Thanks to Jim, Nantucket is fortunate to have so many acres of open land where we all can do just that.
Give Now