Happy Spring to you, Nantucket.  The Island is gearing up for the 42nd Annual Nantucket Daffodil Festival on April 29th – May 1st. Two events coming up that weekend have special significance for us here at the Community Foundation for Nantucket.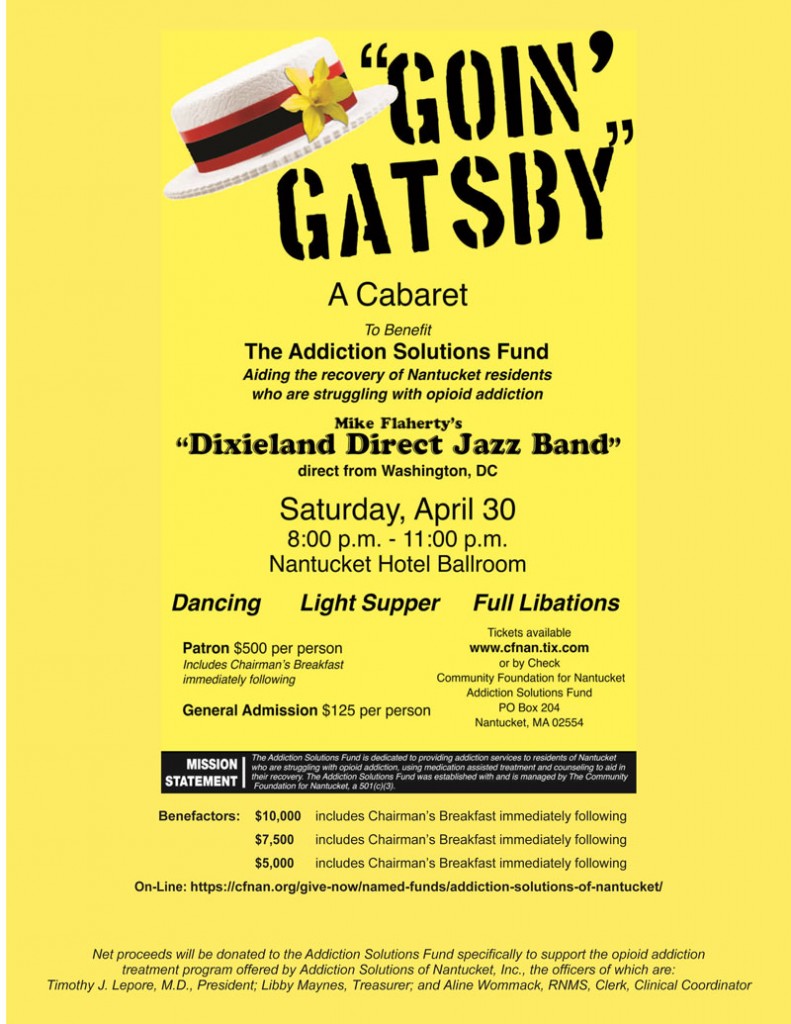 The Addiction Solutions Fund is a new charitable fund established and managed by the Community Foundation for Nantucket. This fund supports Addiction Solutions of Nantucket, which provides addiction services to residents of Nantucket who are struggling with opioid addiction, using medication assisted treatment and counseling to aid in their recovery. This new entity is pursuing charitable status with the IRS, and the Community Foundation supports that effort through this fund.
 "Goin' Gatsby" is an event coming up Saturday, April 30th to benefit the Fund. The night is sure to be a memorable one with music and dancing provided by the "Dixieland Direct Jazz Band" direct from Washington D.C.
To purchase tickets for this special event, click here.
If you are not able to attend, but would like still like to donate, visit the Addiction Solutions Fund Page on our website.
 Daffodil Festival just got more colorful with the release of the Nantucket Coloring Book at Mitchell's Book Corner on Saturday April 30th from 10am – 12pm.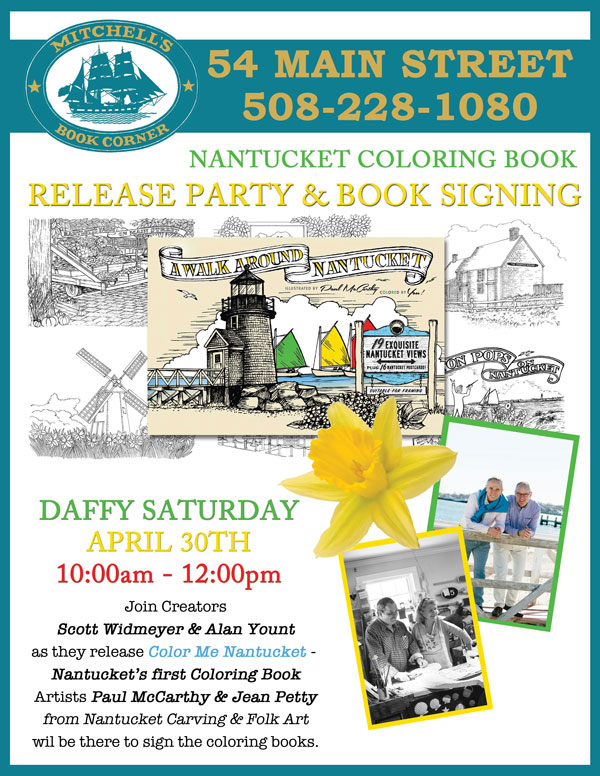 Join Creators Scott Widmeyer & Alan Yount together with Artists Paul McCarthy and Jean Petty from Nantucket Carving & Folkart as they present "A Walk Around Nantucket" – Nantucket's first adult coloring book! Before the Daffodil Parade, you can meet the creators and get your coloring book signed by Paul.  A portion of the proceeds from the sales of the coloring book will benefit the Community Foundation for Nantucket. We thank Scott and Alan for their generous support of our Island by donating these proceeds to the Nantucket Fund™.
 Not able to make it to the event? Pre-Order the Nantucket Coloring Book by calling Mitchell's at 508-228-1080 during business hours and they can ship it to you when it's available April 30th.
 We can't wait for April 30th to celebrate, support, and benefit two of our funds that directly help Nantucketers.