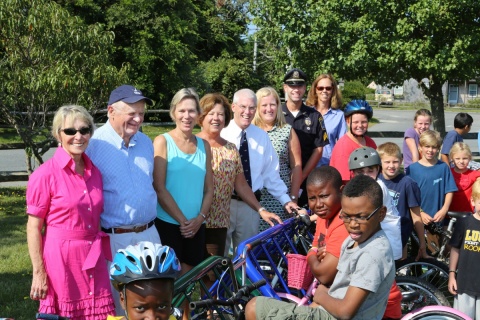 We have wonderful news! Last year a group of generous donors started a fund with the Community Foundation for Nantucket to purchase badly needed bike racks for the Nantucket Public Schools. They exceeded their goal by $4000!
Apparently the 20 new racks we purchased through their fund last summer have met the needs of the students. Above is a photo taken during the dedication ceremony last fall featuring the Elementary School children who biked to school and used the new racks!
It was brought to our attention through discussions with the Superintendent of Schools, Mike Cozort, that there is a need for funding to support students who require financial assistance to participate in school field trips and specific projects. Direct financial support to individual students cannot be made through any fund held by our Community Foundation so the fundholders suggested, and CFN's Board of Trustees agreed, that the Foundation grant the balance of the Bike Rack Fund to the Nantucket Educational Trust, an entirely separate 501c3 organization, established to support our Public Schools. This grant will be specifically restricted to student support when there is a financial challenge to participate in school sponsored activities.