1.  Give to Support the Foundation
The work of the Community Foundation could not continue without direct support. Please consider a gift to support the operations of the foundation.
---
2.  Give to a Named Fund
CFN helps connects donors with those in need on Nantucket. One of the ways we accomplish this is through targeted named funds.
---
3.  Giving Cards
What better way to show your appreciation for someone special than to present them with a Giving Card for charitable giving? The benefits of this Giving Card program are far-reaching. One of the missions of the Community Foundation is to promote philanthropy Island-wide, and your purchase of a Giving Card supports that mission. The cost of the card is tax-deductible and goes into a fund, from which the card value is redeemed as a charitable grant. Best of all, you're giving a gift that allows your recipients to support THEIR charity! Give the gift of giving.
BUY OR REDEEM GIVING CARDS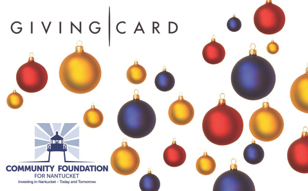 Today – December 2, 2014 is Giving Tuesday!  "Giving Tuesday is a counter narrative to Black Friday and Cyber Monday because it reminds us that the spirit of the holiday giving season should be about community and not just consumerism," said Kathy Calvin, CEO of the UN Foundation. "The most meaningful gift we can give our children, loved ones, friends and neighbors is the commitment to work together to help build a better world."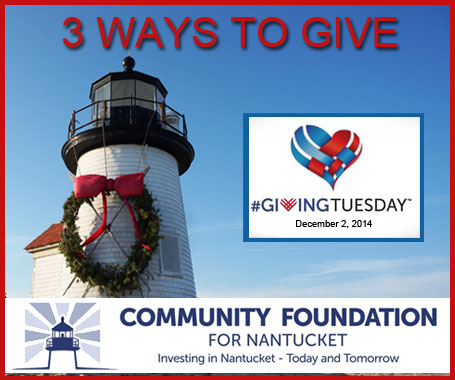 Here at the Community Foundation for Nantucket, our mission is to promote philanthropy everyday and #GivingTuesday is a great day to start!