The Nantucket Cottage Hospital Community Health Initiative seeks to stimulate Nantucket entities to develop sustainable local programs that impact the most urgent needs of the Nantucket community's populations and strengthen the local public health infrastructure.
NANTUCKET COMMUNITY HEALTH IMPROVEMENT PLAN (HEALTHY NANTUCKET 2020)
Nantucket Community Health Improvement Plan, developed in 2017, was the result of extensive collaboration among the Island's health and human services agencies, nonprofit organizations, the Town of Nantucket's Department of Health, as well as year-round and seasonal residents of the Island. From September 2016 through January 2017, these community stakeholders came together during a series of public forums and meetings to identify Nantucket's most pressing health needs, prioritize the top issues for the Island, and develop goals and strategies to make meaningful change in these areas. During this collaborative and participatory process, dozens of community groups, organizations, and individuals contributed valuable insight and perspectives.
The resulting document reflects this comprehensive process and the wide range of community stakeholders who offered their expertise and knowledge.
Nantucket Community Health Improvement Plan (PDF)
CELEBRATING THE FINAL YEAR OF THE NANTUCKET COTTAGE HOSPITAL COMMUNITY HEALTH INITIATIVE
Over the past five years, Nantucket Cottage Hospital's Community Health Initiative has invested $4.3 Million dollars in local nonprofits to address community health on Nantucket. This funding was made available through the Massachusetts Department of Health's Determination of Needs process, mandating a community investment when hospital capital improvement projects are approved.
The Community Foundation for Nantucket (CFN) is honored to have partnered with the Hospital and assist with this incredible community initiative. Lead by Jeanne Miller, CFN convened leaders in our community to discuss the Island's most pressing needs and determine innovative solutions to addressing community health on Nantucket. Each year since the initiative began, the hospital sought project proposals in four major areas: behavioral health; women's and children's health; access to healthcare; and access to housing.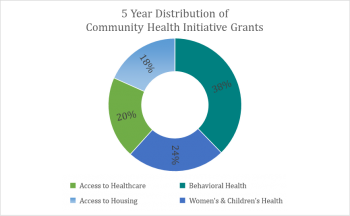 We are very grateful to the volunteer committee members who dedicated their time and expertise to this program. The grants distributed through this fund have truly made a difference on Nantucket and will continue to enhance access to care for years to come.
Organizations supported by the NCH Community Initiative Grants 2017-2021:
Addiction Solutions
Artists Association of Nantucket
Behavioral Health Initiative Fund
Fairwinds, Nantucket's Counseling Center
Gosnold
Habitat for Humanity
Health Imperatives
Housing Nantucket
Maria Mitchell Association
NAMI, National Alliance on Mental Illness
Nantucket Affordable Housing Trust
Nantucket Boys & Girls Club
Nantucket Civic League
Nantucket Community School
Nantucket Community Television
Nantucket Department of Human Services
Nantucket Food, Fuel and Rental Assistance
Nantucket Fire Department
Nantucket Public School
Nantucket Safe Harbor for Animals
Small Friends
Sustainable Nantucket
"These funds have completely transformed how the community is able to access services," said Sunny Daily, of Health Imperatives. "Now we can offer something in addition to what the hospital offers, which means that now there's a place for everyone to access healthcare, now individuals have access to information, support, treatment and care. That leads to us having a healthy community, where people cannot only take care of their own lives, but their families, neighbors and whole community."