2015 Community Grant Recipients
December 4, 2015 marked the Community Foundation for Nantucket's 6th annual Nantucket Fund™ Grant Recipient's Breakfast.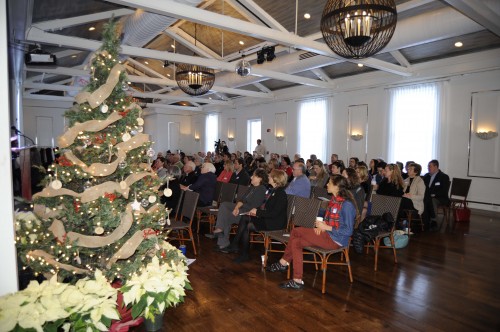 For the past two years, the Community Foundation has convened a Community Roundtable, including thought leaders from the Island, to help us assess current and future needs on Nantucket, in anticipation of CFN's annual community grants cycle through the Nantucket Fund™.  The Grants Breakfast was proud to honor 24 nonprofits receiving awards which total $138,720.  Here is a taste of where our grant dollars went this year:
During the breakfast, we heard from each of these recipients, who emotionally and gratefully spoke a bit about how these grant dollars will help their programs this year.
A round of applause to all the recipients and a special thanks to Mark & Gwen Snider from The Nantucket Hotel, N Magazine for all their support this year, The 'Sconset Chapel, The License Plate Fund, First Congregational Church, Nantucket Bank, Max Berry, and Pamela Thomas.  Thanks as well to those who responded to our late summer Nantucket Fund™ appeal, as well as many multi-year donors and those Nantucketers who purchased raffle tickets for our third annual raffle to support this fund.
To submit grants for 2016, please refer to the Foundation's Grants Process.
The 2015 Recipients:
A Safe Place
Victims of Crime Act Matching Funds
Artists Association of Nantucket
to support the Healing Through the Creative Process program
Children's Cove
to support Bridge the Gap advocacy
A new Sensory Room
Friends of Nantucket Public Schools
to support The Children's Fund scholarships
Habitat for Humanity
A boiler/hot water heater
Health Imperatives, Inc
to support Nantucket Family Planning and WIC programs
Housing Nantucket/ NHA Properties
Public Education and Media Outreach
NAMI (National Alliance on Mental Illness)
to support Nantucket outreach
Nantucket Book Foundation
PEN/Faulkner Writers in Public Schools
Nantucket Boys & Girls Club
American Power Hour Program
Nantucket Community Sailing
Accessible water sports with "old Salts" and STAR families
Nantucket Community School
Summer Boost Pre-School Program
Nantucket Cottage Hospital
to support the Pediatric Health Fair
Nantucket Food Pantry
to support the Fresh Produce program
Nantucket Historical Association
to support Our Nantucket and multicultural events
Nantucket Ice Company
Bi-Monthly Community Skating nights
Nantucket Interfaith Council/Rental Assistance
to support Short-term Housing Assistance
Nantucket Lighthouse School
A lecture series on Mental Health and Challenging Behaviors
Nantucket Maria Mitchell Association
Science Festival and STEM Fair
Nantucket S.T.A.R.
to support Sensory Art and Cross fit programs
to support the Whiskers & Wags Program
Swim Across America
underwriting events costs for event to support NCH Cancer Care and PASCON
Sustainable Nantucket
to support the Farm to School Apprenticeship