On Friday, December 2, 2016 we celebrated our favorite day of the year – The Annual Nantucket Fund™ Grant Recipient Breakfast at The Nantucket Hotel. This year the event was sponsored by BNY Mellon Wealth Management .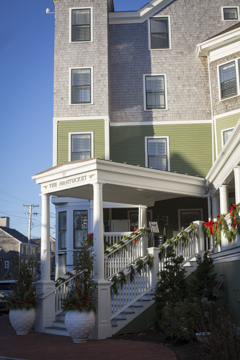 The Community Foundation has regularly convened thought leaders from the Island to help us assess current and future needs on Nantucket in anticipation of our annual Nantucket Fund™ Grants cycle. Last week, in our 10th grants cycle, we were proud to honor 31 Nantucket nonprofits whose missions and services most closely align with what our community tells us are the most compelling issues facing Nantucket today. Grant awards this year total $155,800, thanks to contributions from many sources. The 'Sconset Chapel Outreach Fund once again is a major donor, along with many individual donors who have made significant multi-year commitments to the Nantucket Fund™. We are thankful for their help which allows us to support so many worthy causes.  Here is where our grant awards were directed this year.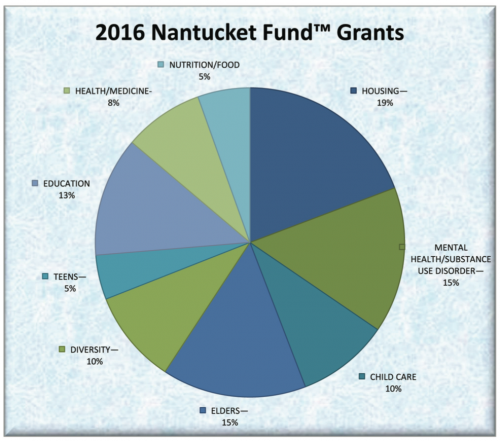 Housing:
Habitat for Humanity – An HVAC system at 7 Wappossett Circle.
Housing Nantucket – Funds for maintaining upkeep on current housing inventory.
Nantucket Rental Assistance – Support for year-round, lower income working residents to find and remain in affordable stable year-round housing.
Mental Health/Substance Use Disorder:
A Safe Place – Matching grant for three year support of a Victims of Crime Act trauma therapist.
Fairwinds – Support for psycho-therapeutic services for children, adolescents and adults.
A.S.A.P. (Alliance for Substance Abuse Prevention) – Words Can Work DVD's for student and parent education.
NAMI  (National Alliance for Mental Illness) – Support for Student Mental Health programs; the EDE Borderline Personality Disorder course, and Think:Kids.
Artist's Association for Nantucket- Support for Healing through the Creative Process, a therapeutic art course.
Elders:
Nantucket Community for Elder Affair s- A grant to have a needs assessment study focused on Nantucket's elder population.
Nantucket Community Sailing – Therapeutic sailing and watersports for underserved children and adults in the Nantucket community.
Linda Loring Nature Center – Science and Nature Lifetime Learning for Seniors.
Education:
Nantucket S.T.A.R. (Sports & Therapeutic Accessible Recreation) – Sensory Art and Cross fit   classes for children with disabilities.
Egan Maritime Institute – Sea of Opportunities classes for 6,7&8 graders island-wide.
Nantucket Book Foundation – PEN/Faulkner Writers in Schools program for visiting author series
Nantucket Maria Mitchell Association – Third annual Science Festival and STEM Fair.
Nantucket Lighthouse School – Parenting workshop series, Tony Wagner–Most Likely to Succeed
Friends of the Nantucket Public Schools – support for the "Children's Fund"- scholarships for children to participate in extracurricular activities
Childcare:
The Community School – Wee Whalers – Emergency support to keep preschool program open for one year.
Small Friends of Nantucket – Support to make self-assessed safety improvements to the school to align with the State Regulations for licensing.
Diversity:
The Community School – ELL Symposium – Sponsor a one-time Nantucket Symposium with key community stakeholders including educators, social service agencies, employers and members of the ESOL(English for speakers of other languages) community to assess needs, share resources, and brainstorm innovative approaches to deliver Adult ESOL education.
Nantucket Music Center – two music education programs based in distinct cultural heritages represented on Nantucket: Brazilian and Bulgarian.
Inky Santa – Support for annual toy drive to support Nantucket families in need.
Health/Medicine:
Health Imperatives – Expand and strengthen health care programming to young, low-income women and children on Nantucket.
Swim Across America – support to keep all funds raised at their annual event for Oncology    services and Palliative and supportive care  here on Nantucket.
Nantucket Cottage Hospital – support for second annual Be Well Children's Health Fair for the spring of 2017.
Safe Harbor for Animals – Lucky Whiskers and Wags Fund (LWW), which covers the "above and beyond" medical costs of our current and past shelter animals and island pets in need of  medical assistance.
Nutrition/Food:
Nantucket Food Pantry – Support the Fresh Produce program which offers free access to fresh produce from local Nantucket farms to our neighbors.
Sustainable Nantucket – Help support a Farm to School Garden Coordinator.
Teens:
Boys & Girls Club – Support for a Teen after Hours Program on Friday & Saturday nights.
Nantucket Film Foundation – Support for the Nantucket Teen View Program teaching teens about film making.
Nantucket Soccer Club – Support for scholarship program for all students who are in need and want to play soccer.