2014 Nantucket Fund™  Grant Recipients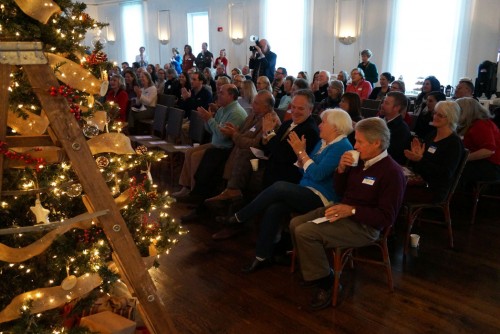 On December 5, 2014, over 100 people gathered at The Nantucket Hotel to see and hear where our grant dollars went this year.  We were proud that we met our 2014 goal of doubling our grants to over $100,000 and were ecstatic to award these funds to 27 deserving Nantucket nonprofits and causes.
Special thanks go to Max Berry and Pam Thomas whose dedication and commitment helped increase the awareness and vitality of the Nantucket Fund™ this year.
We are pleased to announce the 2014 Recipients:
A Safe Place
To fund a Prevention Education Program
access nantucket
To fund information and referral service
To fund two 1 hour presentations on social media, drugs & alcohol
Family and Children's Services of Nantucket
To fund an upgrade to electronic medical records
Friends of Nantucket Public Schools
Help low income children participate in extracurricular activities
Health Imperatives, Inc
Increase programs for women on Nantucket
Housing Nantucket/ NHA Properties
Housing needs assessment and action plan
Inky Santa's Toy Drive
Build up reserves for current shortfalls
Linda Loring Nature Foundation
Stories in nature project
Literacy Volunteers of the Atheneum
Offering free classes and training for tutors
My Nantucket (Mentoring Youth)
To fund a one-on-one mentoring program
NAMI (National Alliance on Mental Illness
To fund a conference call telephone system for the program
Nantucket Boys & Girls Club
American Triple Play Program
Nantucket Community Music Center
"Innovations in Popular Music in the 20th Century"
Nantucket Community Sailing
Therapeutic sailing and water sport activities
Nantucket Community School
Short term extended day care for Spring 2015
Nantucket Dreamland Foundation
Open Caption Showing for hearing impaired
Nantucket Film Festival
To fund The Teen View Program
Nantucket Food Pantry
To fund a fresh produce program
Nantucket Interfaith Council/Rental Assistance
Rental Assistance to year-round islanders
Nantucket S.T.A.R.
Sensory Art and Cross fit classes
To support the Lucky Whiskers & Wags Program
NHA Diversity Festival
To fund the Diversity Festival
Sustainable Nantucket
2 Programs: Half Day in the Garden & Community Farm Ins.
Swim Across America
To support the program to make all net proceeds stay local
Theatre Workshop of Nantucket
To support the 2014 production of Cinderella
Walden Chamber Players, Inc.
To bring classical music to Nantucket public schools