Margaretta Andrews, Executive Director, was born in Wilmington, Delaware, and has generational ties to Nantucket going back to the 1930's. After graduating from St. Lawrence University, she moved to Nantucket year-round in 1979, and worked for the Nantucket Conservation Foundation and then the Nantucket Cottage Hospital. She married Bill Andrews in 1988 and began volunteering in the early 1990's. She has served on the boards of the Children's House Montessori School, Friends of Nantucket Public Schools, Nantucket Student Lacrosse, both the Cyrus Peirce and Nantucket High School Councils, and the Nantucket Cottage Hospital where she served as Chairman of the Board of Trustees from 2001-2008, and is currently an honorary trustee. She was the Secretary/Treasurer of the Nantucket Platform Tennis Association from 1991 to 2013. Margaretta joined the Community Foundation for Nantucket as Executive Director in October 2008.
---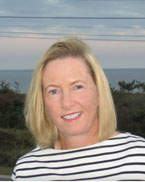 Jeanne C. Miller, Program Director.  Born and raised on Long Island, Jeanne arrived on Nantucket in 1979 while still a student at Boston College. She became a year-around resident and joined the faculty of the Children's House of Nantucket, a Montessori pre-school, in 1982 where she stayed for 25 years retiring as executive director in 2007. Jeanne also served as executive director of the 'Sconset Trust in 2008. She participated in the founding of several island non-profit organizations including A Safe Place and The Early Childhood Center. Jeanne also served as a Board member of both the Atheneum and The Friends of the Nantucket Public Schools, where she founded the organization's popular Community Spelling Bee. She and her husband Bruce both share a passion for serving the Nantucket community.
---
Carlisle Jensen, Program & Development Coordinator.  Carlisle grew up on Nantucket and developed a passion for philanthropy through volunteering with many island organizations.  A recent graduate of the University of Vermont, she has experience working as the Community Engagement coordinator at UVM and for organizations focused on community engagement, education access, and women's health.  She recently returned to Nantucket  and is thrilled to be returning to her nonprofit roots. When not at work, Carlisle enjoys coaching for the Nantucket Dolphins Swim Team, running with her NiSHA puppy, and guzzling copious amounts of coffee from Nantucket's numerous, independently-owned coffee shops.
---

Kristin Campbell, Office Manager. A native of Ipswich, MA,  Krissy married into a third generation Nantucket family.  After graduating from Amherst College in 1989, Krissy began her career at Bloomingdales in New York City.  In 1993, she co-founded Apply Technology, the first publisher of college application software and continued to run the company after it was acquired by The Princeton Review.  In 2015, Krissy moved full-time to Nantucket.  Her husband, Chris Glowacki, is the Managing Director of Strategy and Development for the Nantucket Cottage Hospital.  Krissy's daughter Lily is an actress in New York City and her sons, Albert and Herbie, and daughter, Stella are students in the Nantucket public schools.  Krissy serves on the boards of The Homestead and Petticoat Row – Women in Nantucket Business.